Planning your Virginia Beach wedding lighting design.
---
In Virginia Beach, wedding lighting is more popular than it ever has been before. Many brides are adding drape accents to their oceanfront ceremonies. The drape billowing in the ocean breeze looks fantastic in person and pictures alike. Others are getting full design packages for one of Virginia Beach's many fantastic venues. There are so many possibilities with light, it's hard to know where to start. Professional lighting companies employ trained lighting designers to ensure no detail is missed. Designers draw on their years of experience to make a seamless lighting design that brings the wedding look to the next level. Read on to learn more about what lighting options are available in Virginia Beach.

Add some drape…now add some more.
---
Drape looks great, but it can be functional too. You can protect your guests from the harsh rays of the sun with some drape shades. With drape, you'll get a nice canopy that blends in to the gorgeous landscape. However, this effect can be limited to nice weather. Drape won't stop the rain! Most production companies that set up drape offer several color, fabric type, and hang options. Drape is a good look for both indoor and outdoor weddings, so don't be afraid to use your imagination.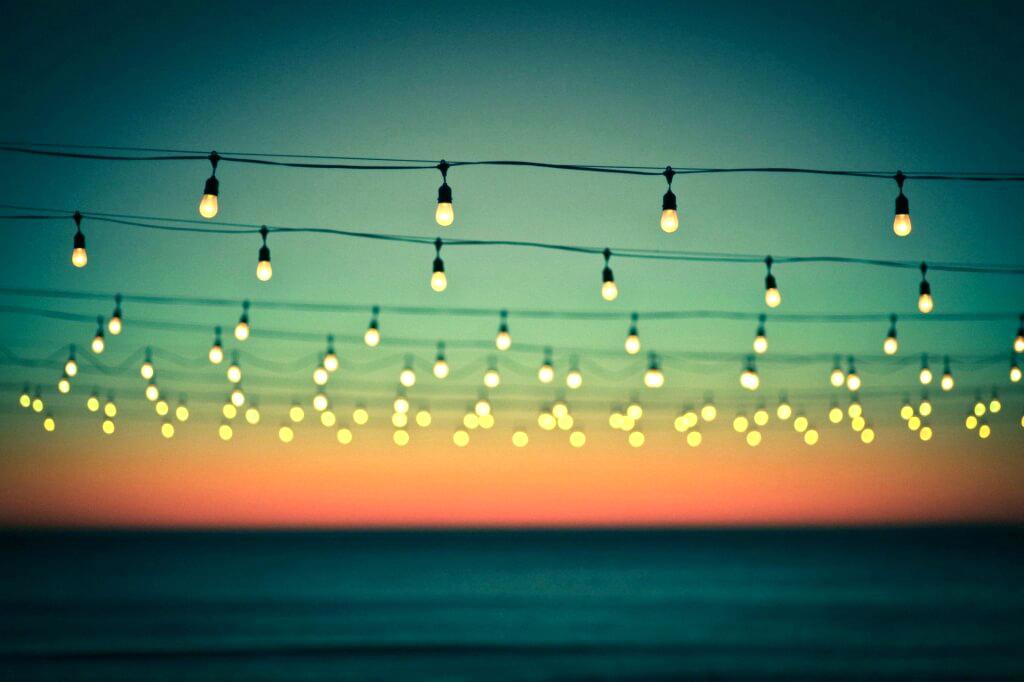 You can't go wrong with string lights.
---
Peanut butter and jelly. Chips and dip. Rum and coke. Weddings and string lights.
String lighting has become the go-to for covering event spaces all over the country. It's an effective and elegant way to cover large spaces with lighting that doubles as amazing decor. There's a certain charm that comes from a sunset wedding covered in string lights. Maybe its reds from the sun.  Or perhaps its the sparkling reflection of the sun off the ocean waves. The warm incandescent glow of classic Edison bulbs strung across the landscape definitely has an impact. Many Virginia Beach wedding lighting designs are utilizing bistro lights (also referred to as market lights, cafe lights, or Edison lights.) Bistro lighting is popular, and its one among dozens of string lighting options you can pick from to make your wedding look exactly how you want it. The beach reception below uses "globe-style" string lights and paper lanterns to add to the festive ambiance.
Wedding String Lighting: Everything you need to know about stringing up your event.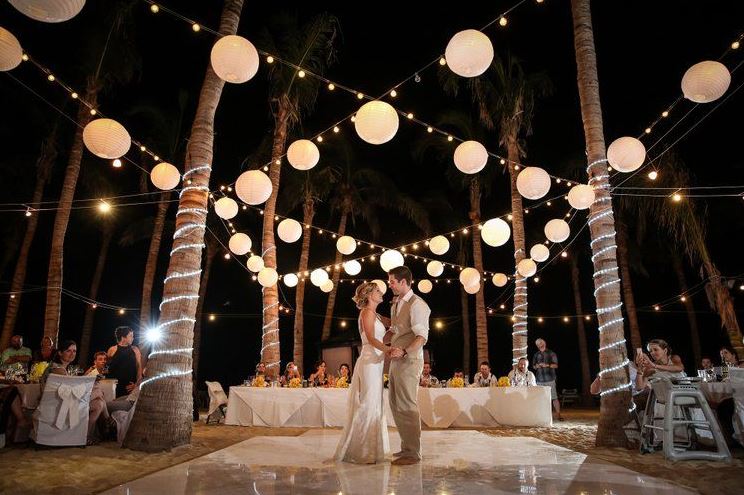 Chandeliers add elegant beauty to your wedding lighting design.
---
Chandeliers have always been a popular addition for weddings. Virginia Beach wedding lighting designs have recently featured more chandeliers. Chandeliers let you customize your event with a classic centerpiece. In addition, Chandeliers make stunning decor displays when grouped together. Most high end lighting companies offer a diverse selection for your to choose from, usually pulling from 4 main themes: Industrial, Rustic, Modern, and Classic (or Traditional.)  A chandelier's style can set the tone for the whole event, so choose wisely.
Event Chandeliers in Virginia Beach Area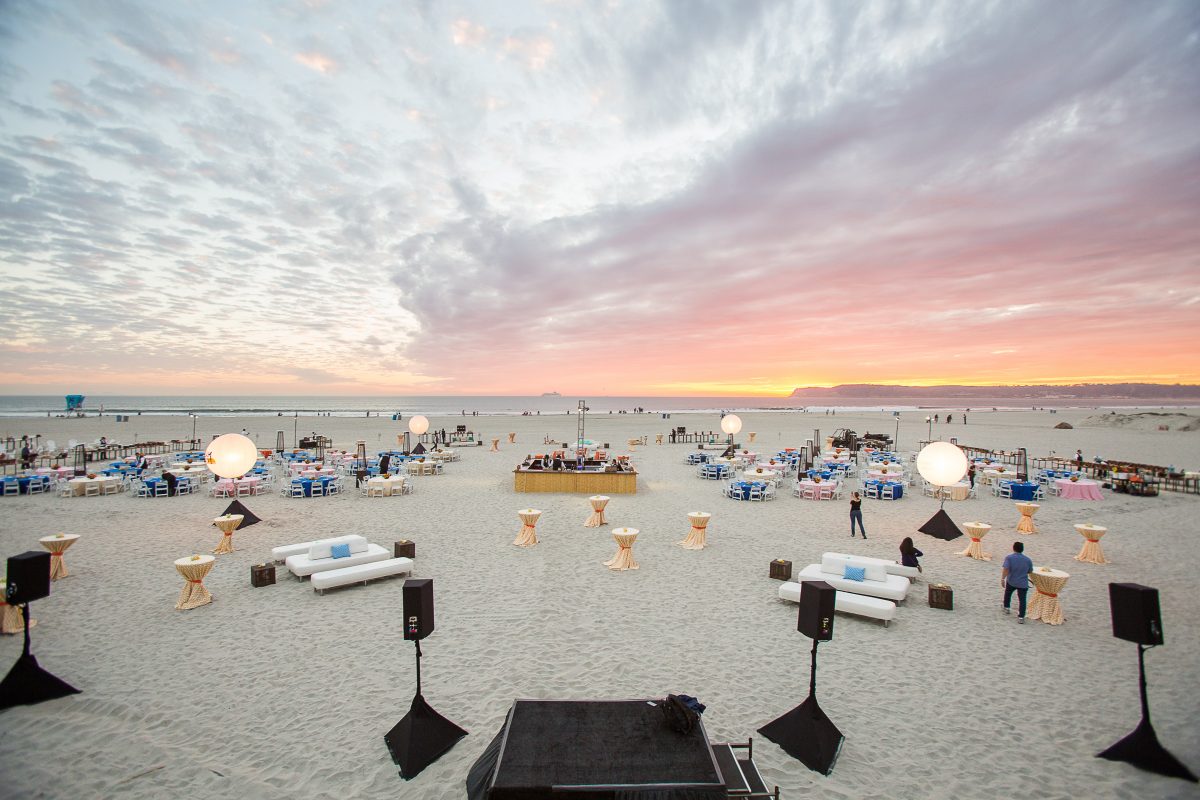 Speakers on the beach: getting the right AV for your Virginia Beach event. 
---
For most weddings and events, the sound system the event DJ brings is more than enough sound. Events that cover larger outdoor areas might find that a normal DJ sound system (2 x 12″ speakers is what most DJ gig with), is insufficient. If your event covers a large space, ask if your  lighting or production company can fill in the gaps that the DJ leaves. A professional production company will carry the gear you need to make sure your wedding looks and sounds great.
Cutting the cord: is wireless the right solution for your beach event?
---
With wireless technology, anything is possible. We've come a long way since the days when you had to drag out a generator or run hundreds of feet of power cable for a beach event. These days, having lighting, or even audio on the beach is no problem. A well-equipped lighting company has the quiet-run generators needed for any event, anywhere. But sometimes events don't call for all the bells and whistles, and budget is almost always a factor. The good news is wireless or battery-powered solutions make events with limited power options affordable. LEDs, string lighting, speakers and area lights are available with batteries that will last the entire night.
Don't forget to add some color.
---
Uplighting is one of the more popular wedding services this year, and for good reason. With a huge selection of colors, uplighting can fit pretty much any event. Along with standard LED uplighting, most lighting companies will have wireless options available for areas where there is limited power, and waterproof lights that can be used outside in any kind of weather. Uplighting is a great choice as an accent, or even as a primary lighting element. Surrounding a room or event space with lighting is one of the best ways to control the ambiance of the space. LED lighting isn't limited to pointing up, however. Feel free to get creative with the design, washing areas from above with different lighting looks can help define spaces within an event. At the very least, it looks amazing!
About The Lighting & Sound Co.
---
The Lighting & Sound Company provides high-end wedding lights in the Virginia Beach area. We're here to help make sure it's perfect. With an extensive portfolio of beautiful events, we serve events of all sizes. From small beach weddings with a touch of bistro lighting and sheer drape, to extravagant weddings and more. We offer a very large selection of options and want to help make your special day as easy as possible. Lighting, drape, uplighting, gobos, projections, audio, string lighting and marquee letters are just a few of our wedding lighting services. Our wedding lighting designers are some of the best in the business.
The Lighting & Sound Co. offers many custom design solutions for weddings and events, such as custom drape backdrops and chandelier displays. Take a look at our portfolio and give us a call to start designing your wedding lighting.  Featuring a 5 minute quote process, and easy online payment options. Our knowledgeable and friendly designers that will walk you through the process. Our extended office hours mean you can reach us at almost any time of day.