Generators and Temporary Power for Events and Concerts
Electricity: without it, nothing could happen easily. Your event needs power for anything to work. Tent lighting, sound systems, catering equipment, phone chargers, fans/misters, point-of-sales, video screens- all need power. If the event is outdoors or otherwise in a temporary location, you need safe, reliable power distribution for all these items. Of course, this doesn't mean running orange extension cords out of the window of a nearby building. Reliable power is required for your event to run smoothly. Temporary power enables your event to take place in any venue without concerns about power outages. Sometimes you are bringing in generators specifically because you have a power outage.
Generators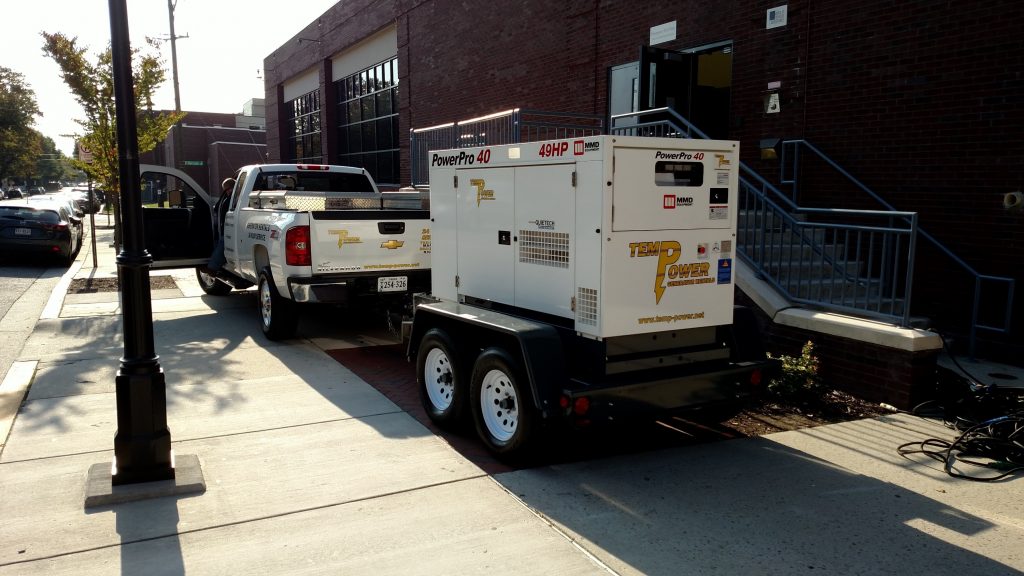 There are several reasons you might need a generator for your event. If your venue is in a field, under a tent, far from a building, or even in a building but electrical service is insufficient, a portable generator is the easiest way to supply your power needs. Common sizes run from 1-kw all the way up to 220-kw to supply even the largest concert or major event.
Quiet-Run Generators
A generator that sounds like a lawn mower might be distracting from your event. Ensure your power supplier uses only quiet run generators for event power. Small Honda units (aka putt-putts) are great for lighter needs and are fairly quiet. These can sit nearby wedding tents without bothering guests. However, as the generator gets larger (to supply greater power needs) it doesn't need to get louder. Trailer-mounted units can supply larger power needs. Certain mega-silent units have extensive sound abatement treatments and are so quiet you can stand next to it and not know it is running.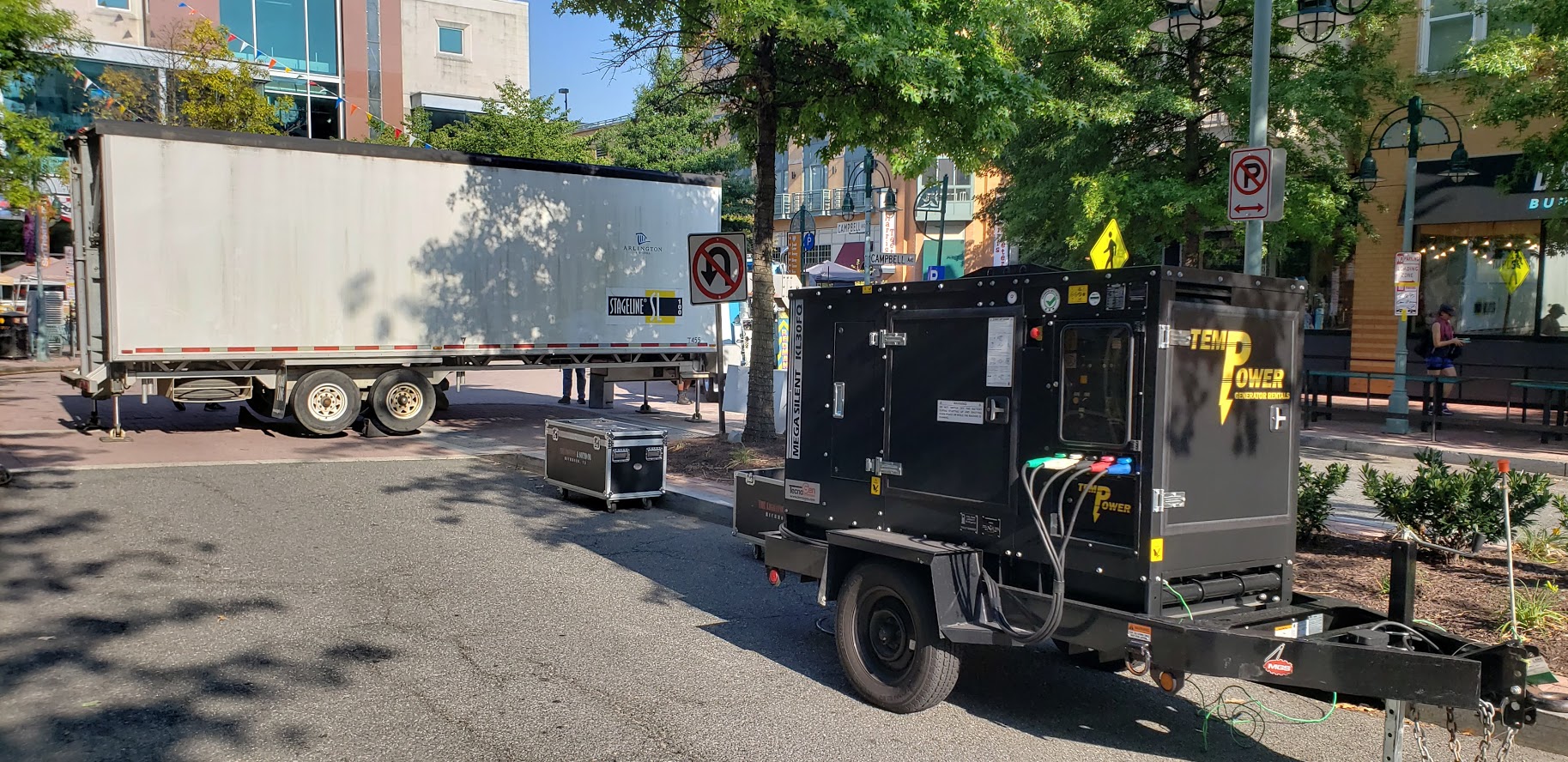 Reliability and Runtime
Of course a generator provides no value at your event if it stops running. You want to ensure your guests have a seamless experience at your event. An electrical failure will certainly be noticed by all in attendance. To prevent this from happening, a professional power supplier will take many precautions. These include performing maintenance on schedule, monitoring performance telematics remotely, having a technician remain onsite, using two units in parallel or with transfer switch, refueling in advance of empty, and having additional equipment on standby ready to roll out 24 hours a day. A generator company dedicated to perfect events will offer to do all of these items. Some of these come with additional cost while some are included with standard rental price. Be sure to discuss your exact needs and requirements with your power supplier.
Most trailer-mount generators carry enough fuel on board to run constantly for a day or two without requiring refueling, and external fuel tanks are available to increase runtime.
Temporary Power Distribution
With a generator that can supply upwards of 100 amps, there needs to be a safe electrical system to distribute power where it is needed. Feeder cable runs from the generator to portable distribution panels. From there, single or multi circuit cables run from these panels to supply the electrical needs around a venue. There are many variations of panels and cable to suit every event's unique needs. With a tented wedding, you might drop a spider box at the catering area and for the band. For a larger stage concert, a larger distro or dimmer racks will be placed on stage and socopex multicable ran to the stage lighting positions. For tradeshow booths, a 3-circuit cable with quad box outlets every 10 feet might be used.
Equally important is getting an estimate of the electrical loads so the proper size of equipment can be used. In addition, a qualified technician should specify the distribution equipment so that there is no risk of overload.
Cable Ramps (Crossovers)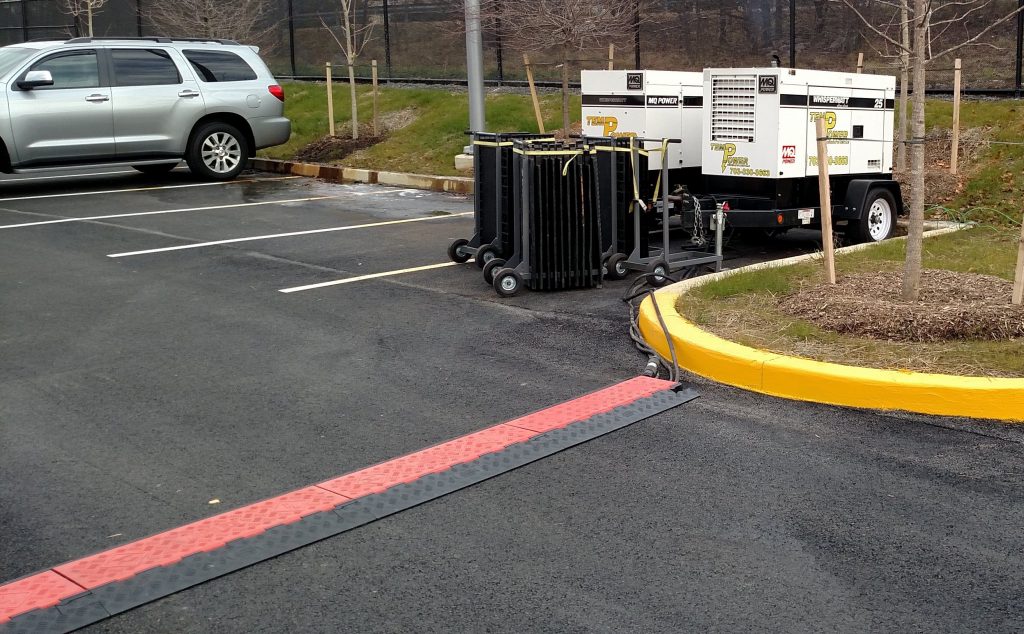 A concern with temporary power is that there will be a lot of wires. It's usually not feasible to hide the wires inside walls or under surfaces. The best power suppliers will take care to run cables out of the way or overhead as much as possible. However, there are many times cases where wires have to cross a walkway. In these cases it is imperative that you use cable ramps to protect attendees and equipment. You might also hear these called yellow jackets or cable crossovers. Additionally, some styles can accommodate the weight of heavy vehicles so you can run cables across a roadway. If heavy foot traffic or accessibility is a concern, you can use ADA cable ramps with very minor slope.
Electrical Consultation
There are a number of considerations when ensuring your event wont shut down due to lack of power. Fortunately, at The Lighting & Sound Co, we have years of experience supplying power for events of all size. We have handled power needs for hundreds of concerts, food truck rodeos, tradeshows, campgrounds, tented events, weddings and other unusual setups. And we know that sometimes you need a generator immediately to resolve a power outage. We can help on an emergency basis with rapid response. We work exclusively with our friends at Temp-Power Generator Rentals to get only top-of-the-line equipment anywhere, anytime it is needed.
Get in touch with us and assure a perfect event by leaving power distribution to the professionals. Give us a call at 804-893-5066 or send an email to events@lightingandsoundco.com and we will do what it takes to power your event.