No doubt planning a wedding requires hundreds, maybe thousands of decisions. Everything from flowers and color palettes to seating arrangements and now safety protocols have to be decided. But, when it comes down to your wedding day's overall design and aesthetic, wedding lighting is one of the most overlooked elements. Wedding lighting is an absolutely crucial design element that should never be skipped or ignored. You see, wedding lighting can utterly transform your ceremony and venue spaces from ordinary to downright spectacular. And the result will be every detail will look even more beautiful than you ever dreamt.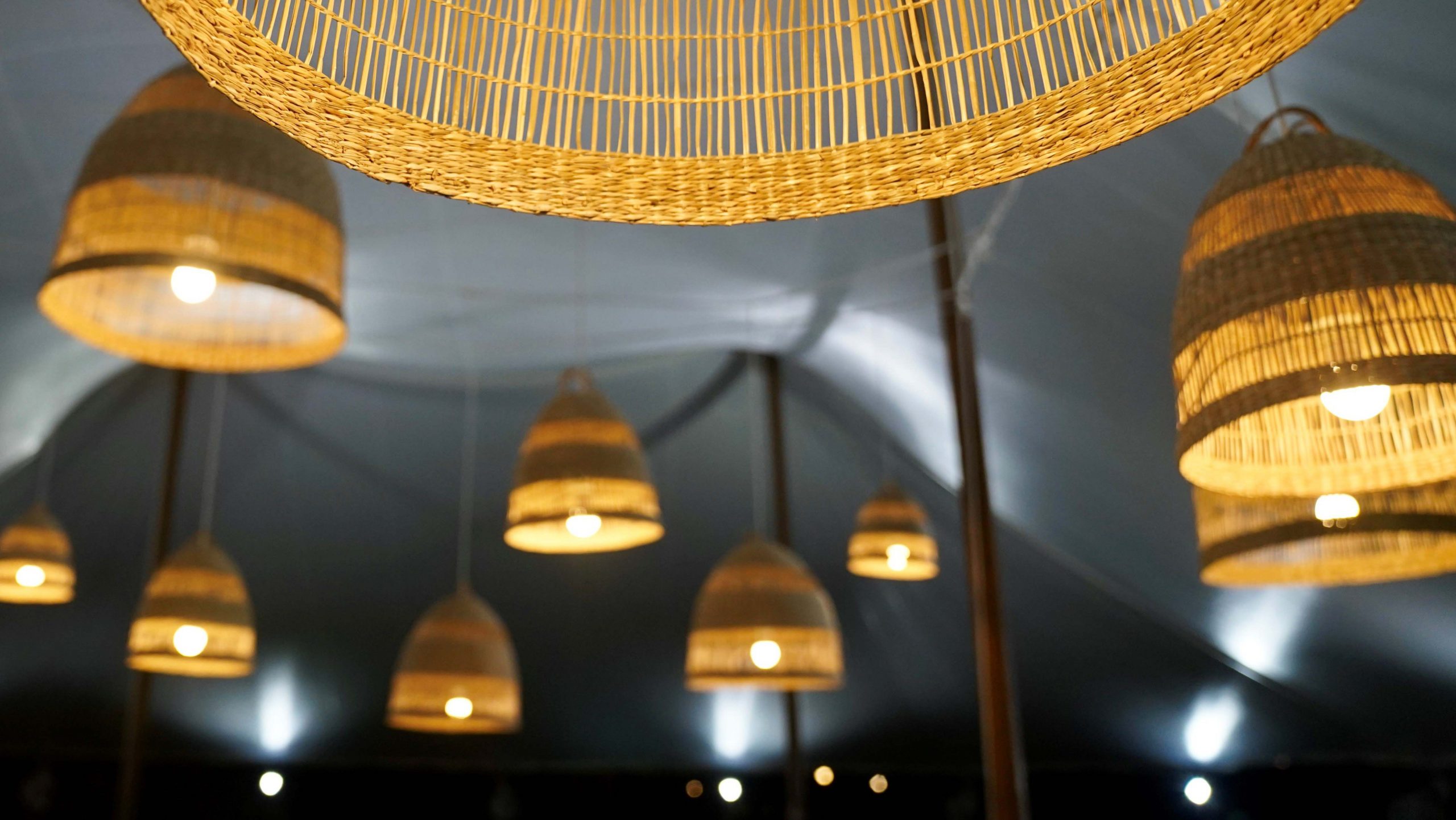 Why Is Wedding Lighting Important For Your Wedding?
Without the proper lighting, your photos may be dark; your guests won't be able to see their food or find their way to the dance floor. Sure! It's an extra expense, but without the proper wedding lighting, the romance and whimsy of your extra special event may be lost.
Here are some creative ways that you can illuminate your wedding event.
Bistro Lighting
There is something so magical about bistro lighting that makes them perfect for weddings and special events. These are also referred to as fairy lights, string lights, twinkle lights, or cafe lights. Strands of light bulbs can be draped in different areas around your wedding ceremony or reception. Wedding Bistro lighting is super versatile and a cost-effective way to add lighting to any space. This is why they are great for weddings. We especially love them at outdoor weddings such as backyard, courtyards, etc.
Uplighting
Uplighting is just that. It's placing lighting fixtures that are masterfully placed next to architectural features or against the wall and around the perimeter of rooms or venues to project columns of light upwards. The color of the uplighting can be standard or coordinated with your wedding theme or color palette. Uplighting is probably the most popular as it adds a dramatic wedding lighting effect.
Gobo & Projection Patterns
If you really want to WOW your guests, add some projection patterns or Gobos to your wedding. Gobo lighting is a custom-made template that light shines through a lighting fixture to project a pattern. Many couples use these to project their monogram on a wall or the dancefloor. Or get extra fancy by projecting a motif or design unique to them on the ceiling or wall. Your wedding guests will be immediately impressed with Gobo lighting at your wedding. Worth every penny.
Pinspotting
You've probably never heard this term before. Pinspots are small spotlights used to illuminate critical focal points such as your centerpieces, wedding cake, etc.
Chandeliers
To really transform a space, add chandeliers as your wedding lighting. Chandeliers immediately add a touch of regal elegance and fairytale wonder to any room. And we especially love them in outdoor spaces. Imagine floating down the aisle under suspended chandeliers? Sounds like a dream, right?
How Do You Decide On The Right Wedding Lighting For Your Event?
Unless you're a wedding planner, deciding which wedding lighting is right for your event may be difficult. Your wedding venue can often help, but if you're getting married outdoors or the venue doesn't offer this as a service, you're going to need help.
Enlist the help of a professional lighting and sound design team so that you can use their creativity and knowledge to develop a wedding experience unlike any other. Remember your wedding day is not just a dinner and dancing party. It's a celebration of two souls becoming one—a celebration of your love story. Having the proper lighting will add a sense of whimsy, romance, sophistication, and more. Without it, your wedding may lack style and personality.
Discuss your ideas with your lighting design team, tell them the overall feeling and look you want to achieve. Then, make sure to look at their portfolio; it's a great way to learn what they can do and maybe even get a little inspiration for your wedding lighting.
Places To Add Wedding Lighting At Your Event
We know your head is swimming with wedding planning stuff, so knowing where you can add wedding lighting is probably not on your mind. Here is a checklist of places throughout your wedding that you can add lighting. And remember, candles are also a source of wedding lighting and can easily illuminate spaces.
Ceremony backdrop
Dancefloor
Ceremony aisle
Cocktail tables
Reception tables
Bar area
Trees
Outdoor walkways
Guestbook table
Overhead lighting
Wall or floor projections
Dessert table
Sweetheart table backdrop
Food stations
Centerpieces
Understanding that wedding lighting is essential to your wedding vibe is the first step to an unforgettable wedding day. Make sure to add wedding lighting to your wedding planning to-dos. We don't want you to regret not having your wedding lit adequately. For other ideas on how to elevate your wedding decor and experience, check out our draping and sound.