Wedding String lighting & bistro lighting have taken over the special event industry- learn about the different types of string lighting available so you can make the best decision for your event. When it comes to string lighting, little decisions can make a big difference. Let's start with the basics.
String Lighting Color
Picking the right cable color for your event string lighting is the first decision you need to make. Traditionally, bistro & string lighting comes in black & white colors, with specialty colors such as gray available in some areas. There really isn't a bad choice here most of the time. Some people want the cables to blend into the background, some people like them to stand out- the decision is yours. Black bistro is great against the backdrop of the night sky.
String Lighting Varieties 
Like everything else about your wedding lighting, Lighting & Sound Co. offers a large variety of options to ensure that your event turns out perfectly. Scroll through some of the options below and find the style that fits your event.
Black & White Edison Bistro
Black Edison bistro is by far the most popular type of string lighting used for events. The classic look and soft incandescent light at a magical ambiance that is impossible to capture using other methods. Edison bistro is popular mainly because it not only lights the space well, its affordable and looks fantastic in pictures.  This type of wedding string lighting is best for traditional looks, such as zig zags & parallel styles. For more on bistro styles, check out our article on Bistro Lighting Styles For Weddings, Corporate Events & More!
Black & White Globe Bistro
Globe bistro is the diet version of string lighting. Smaller bulbs than Edison bistro provide slightly less light, but make the strings lightweight and versatile. Globe bistro lighting is great for accents, & tracing bistro lighting styles.
The globe bulb can also be replaced with a candelabra style bulb, for a slightly different look:
RGB LED Edison Bistro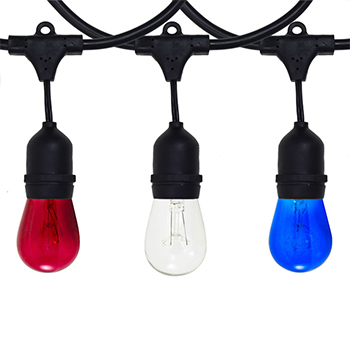 LED bistro is a low-power solution for bistro, with an added bonus: It can change colors! These string lights looks just like Edison bistro. In addition to providing a lovely incandescent look, they can also change to brilliant colors to fit your theme. Great as accents where there is already enough light and you want to add a wow factor.
RGB LED Festoon Lights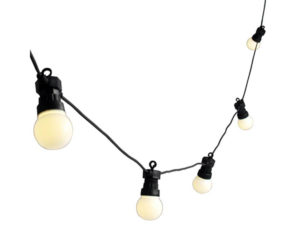 Festoons are the most versatile string light available. Festoons have a slightly different look than Edison & Globe bistro, and they can be used for pretty much anything. These lights are fully controllable, with each individual bulb being able to be changed to a specific color. RGB mixing means pretty much any color is possible, making Festoons an extremely versatile string light.
Black & White Mini String Lights
Traditional Mini Lights, more popularly referred to as Christmas lights, can be used for a ton of different purposes. These lights not only come in strings, but in nets and drapes too, giving you even more options for your event. Great for making drape canopies sparkle, for waterfall effects, and for wrapping around columns or just draping in vertical sections.
These are just some of the most popular options for string lighting, reach out to an LSC Designer to learn more about string lighting for your wedding.