How much does wedding lighting cost?
---
Wedding lighting cost can vary dramatically and the reasons for this can be a bit confusing. We set out to make this guide to give you a general idea of what you'll be paying for your wedding lighting. Because prices for lighting vary between A/V vendors, we've made this guide with price ranges based off of industry averages. Understanding pricing for your wedding decor can help you use your budget efficiently. You want to get the best bang for your buck!
Before we dive into how much wedding lighting costs, let's take a step back for a second. In order to understand prices, you need to understand the services they're attached to. If you've been doing your research and know what you want, continue on! If you don't know the difference between uplighting and pin-spotting, take a look at our wedding lighting services page. There, you can learn about the fantastic options available to light your wedding. 
Lighting it up!
---
Lighting can completely transform your venue. It impacts your space in a way that nothing else can. The flowers, linens, and drape can make the room look nice, but lighting can change the way your venue feels. Without the proper lighting, your guests are going to miss out on the details. In a dimly-lit reception space, the details of a beautiful centerpiece can be lost without the proper pin-spotting. Some weddings, especially daytime events, don't require lighting. For a large majority of weddings that extend into the evening, you are going to want to consider lighting. This applies to outdoor events as well, as most tents don't come with very aesthetic lighting. A traditional bistro look can go a long way in a tent wedding. Free-standing bistro is great for covering large, uncovered, outdoor affairs.
When you're deciding on your lighting budget, make sure you know what you want. Uplighting is great in almost all scenarios, but it can be used to hide the wall color. This is great if the color doesn't match your theme, or if you just hate the color! If you want to cover something up completely, pipe and drape is a practical and elegant defense against ugly art and unsightly rooms.
Our gallery might be able to give you some ideas.
Budgeting for Wedding Lighting
The quickest way to find out what your wedding lighting cost will be is to get a quote from one of our designers. It won't take long- our designers get back really quickly! To get a general idea of what you will be paying, we've provided some industry average numbers below.
---
How much does wedding lighting cost?
Uplighting for the Entire Ballroom: $700-$2000
Monogram Gobo Light: $200-300
Texture Lighting: $50-$75 per light fixture/pattern
Cake Spotlight: $30-$100
Pipe & Drape: $7.50 – $25 per linear foot (10 ft sections)
Pin-spot Lighting: $25-$45 per light/table
Bistro Lighting: $3-5 per linear foot
Chandeliers: $150 – $500 ea
Pendants: $15 – $25 ea
Low Fog: $200 – $300
---
Note that these prices don't include labor or delivery. Typically, labor costs $300 – 600, but if your scope is large, more techs will need to be added. Delivery locally is usually between $50 and $150, depending on distance.
What do most people pay for wedding lighting?
---
To those who have never heard of wedding lighting before they start planning, wedding lighting costs can look prohibitive. Is it worth it? If you are spending any kind of money on your venue, your flowers, or even your name cards, lighting is a must. You don't always need multiple lighting features. If budget is tight, a single feature such as uplighting, or bistro is probably the way to go. It will add a gorgeous ambiance, and provide the lighting your guests need to see. We typically advise clients to budget $1100-$1300 for a small, one feature wedding. If your wedding fits inside a 40 x 60 tent outside, a simple bistro lighting hang will do the trick. For a mid-sized, multi-feature wedding, you should budget between $1500-$3500. Most weddings fit into this category. Large and multi-day events vary widely so we suggest getting a rough quote during the early stages of planning.
Getting the most out of your wedding budget
---
Many venues and DJs will offer lighting to couples at competitive prices. While these prices are often attractive, there are a few things you should understand. There are many lights available at very low prices for venues & DJs to purchase and rent to couples for $800-$1200. Often, you'll end up paying only slightly less for a product that has a fraction of the quality. There are a number of problems with this low-quality lighting. Often, the Red/Green/Blue LEDs within the lights that are used for mixing to different colors are not purchased from the same place. This causes the lights to have slightly different colors. Many venues will show pictures of lighting that a professional company did and claim that as their lighting package. Others will heavily edit the photos they show you so the lighting looks more impressive.
Professional lighting companies not only have higher quality equipment, they often have specialized gear for different situations. Do your research before accepting uplighting from a DJ or Venue- more often than not they are charging you for an inferior product. You wouldn't shop for your catering this way; there is no reason to think lighting is any different. Look at it this way: You can get really affordable catering from your local fast food restaurant. Technically, that and what you'd get from a high-end caterer are both food, but they have large differences in the level of quality.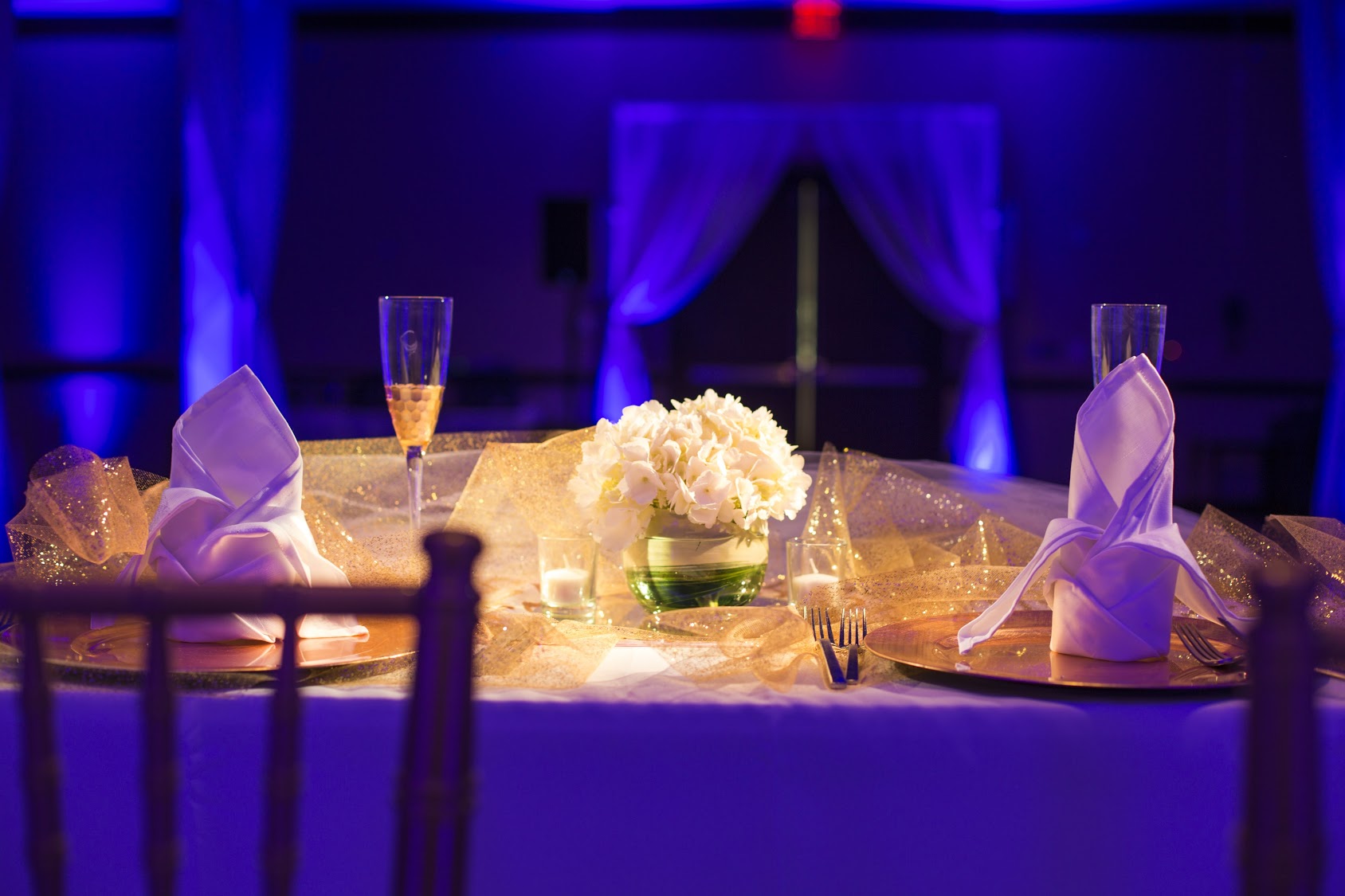 Wedding lighting and your venue



---
Wedding lighting is one of the most affordable ways to transform your event space. It's also one of the best ways to enhance the finer parts of your venue.  Remember, lighting is what makes your event feel special. Everything from the cake to your dress will be affected by lighting. Good lighting can completely transform your venue, instantly enhance the reception décor, and create amazing photo ops for you and your guests. 
Hiring a pro
---
The Lighting & Sound Co is a national design and production company based in Richmond, Virginia. We provide event production services, including lighting, live sound, video, and drape services for events of all sizes, and a diverse range of clients. Our quote process is quick and easy, you can get started right now.