---
If you're planning a gala-style event, with seated dining or low-light ambiance, you're probably considering using pin spots. Pin spotting (pins, table spotting) is the use of a narrow-beamed light to illuminate centerpieces, tables, and other important decor elements. Many people incorrectly refer to pin spotting as "spotlighting," which is a different lighting service.
Illuminating Flower Arrangements & Floral Decor with Pin Spotting
Pin spots are most florist's favorite light. That's because when florists and lighting companies work together, pin spots are often what comes up. Along with a host of other uses, pins are one of the best ways to illuminate your floral centerpieces.
Need more than pin spots? Here are 7 Things Your Need to Know About Wedding Lighting.
---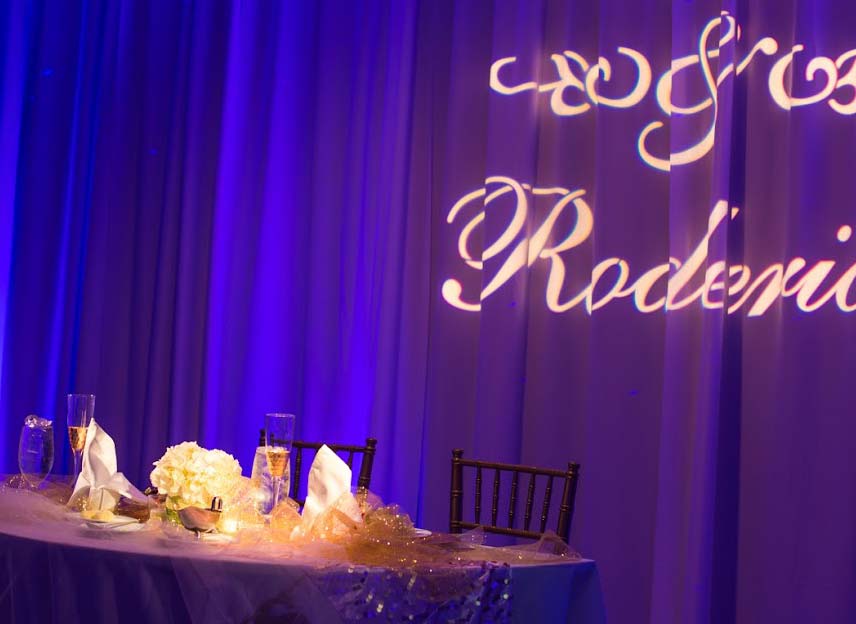 There is no such thing as the best angle for a pin spot. Technicians place lights at various angles to create dramatic shadows, great for a moody feel and less detailed centerpieces. They can also be placed so that the centerpiece is completely and evenly lit. This is great for detailed florals and topiaries. Unfortunately, often venue, budget or both prevent optimal placement of pin spots. A lighting company with any kind of skill will work around this by using ground-support options and a diverse range of pin spotting options.

As with any lighting or decor item, the sky is the limit. Keep it simple with a warm-white 2-angle wash, or get creative with some of the customization options below.


Pin Spots Customization
Color – Pins are typically white or warm white, but a well-equipped event lighting company will have LED lights that can change to your specified color.
Angle – Different types of supports can be brought in to place your lights at the angle of your choosing
Diffusion – While they typically have a 1 degree angle, pins can diffuse anywhere from 1(narrow) to 40(wide) degrees.
Intensity – The intensity of your lights can be controlled so that they don't overpower other natural lighting or design effects.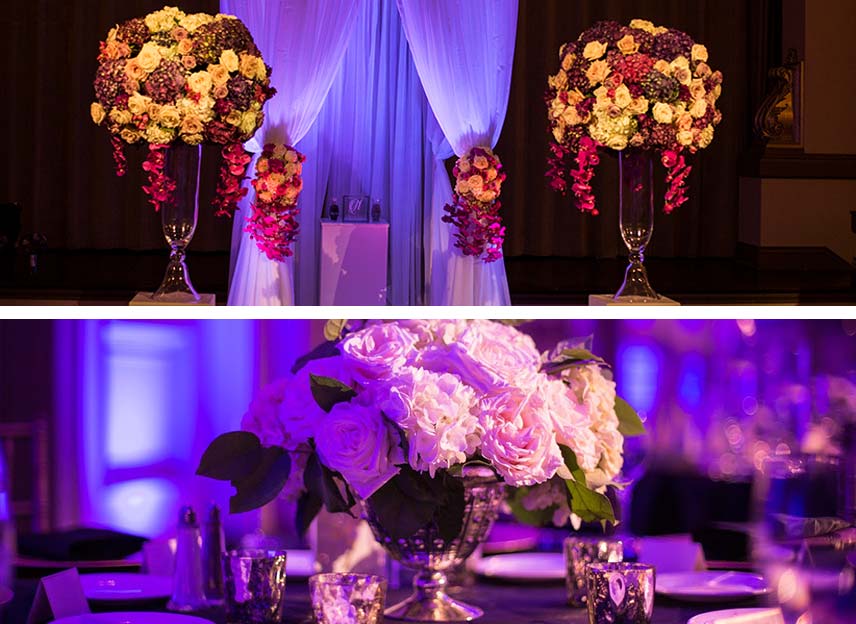 Getting the most out of your pin spots
When you talk to your lighting company, make sure you come well-informed. Most companies will charge per table for pins. In most situations, two spots are required per centerpiece, to get total coverage so ensure that's what you're getting.
Why use pins? Click the pin spot function on our color picker app, and you can see the difference that they make!
---
Have more questions? Reach out and speak with one of our event designers.