The Lighting & Sound Co headed out to the Hampton Roads area to set up some TV lighting for the Under Armor Brothers In Arms Classic football game between two top-tier football teams. Bleacher Report was televising the game live via webcast between no. 2 in the country IMG Academy of Sarasota, Florida and Bishop Sullivan Catholic High School of Virginia Beach. Both schools are high school football powerhouses; the IMG Ascenders have 30 players committed to college teams while the Bishop Sullivan Crusaders have 7 commits.
Working at the Virginia Beach Sportsplex, we provided a truss goalpost structure with an extensive moving head and LED strip lighting package so that the teams would have a tunnel-like archway filled with smoke and haze effects as well as effect lighting to run out of onto the field at the start of the game. Numerous TV cameras captured captured the entire scene, as local news stations and Bleacher Report's photojournalists filmed from all angles.
Lighting effects consisted of moving head beam units (Elation Beam 5R), moving head wash units (Chauvet Rogue R2 Wash), and LED striplights (Elation ELED QA Strip). Our lighting designer operated the rig live as the run out occurred for maximum visual effect and excellent looks for TV viewers. The colors were coordinated to match with the team uniform color.
Meanwhile, a powerful QSC KW153 active loudspeaker played upbeat music to pump up the players as they ran out through the tunnel.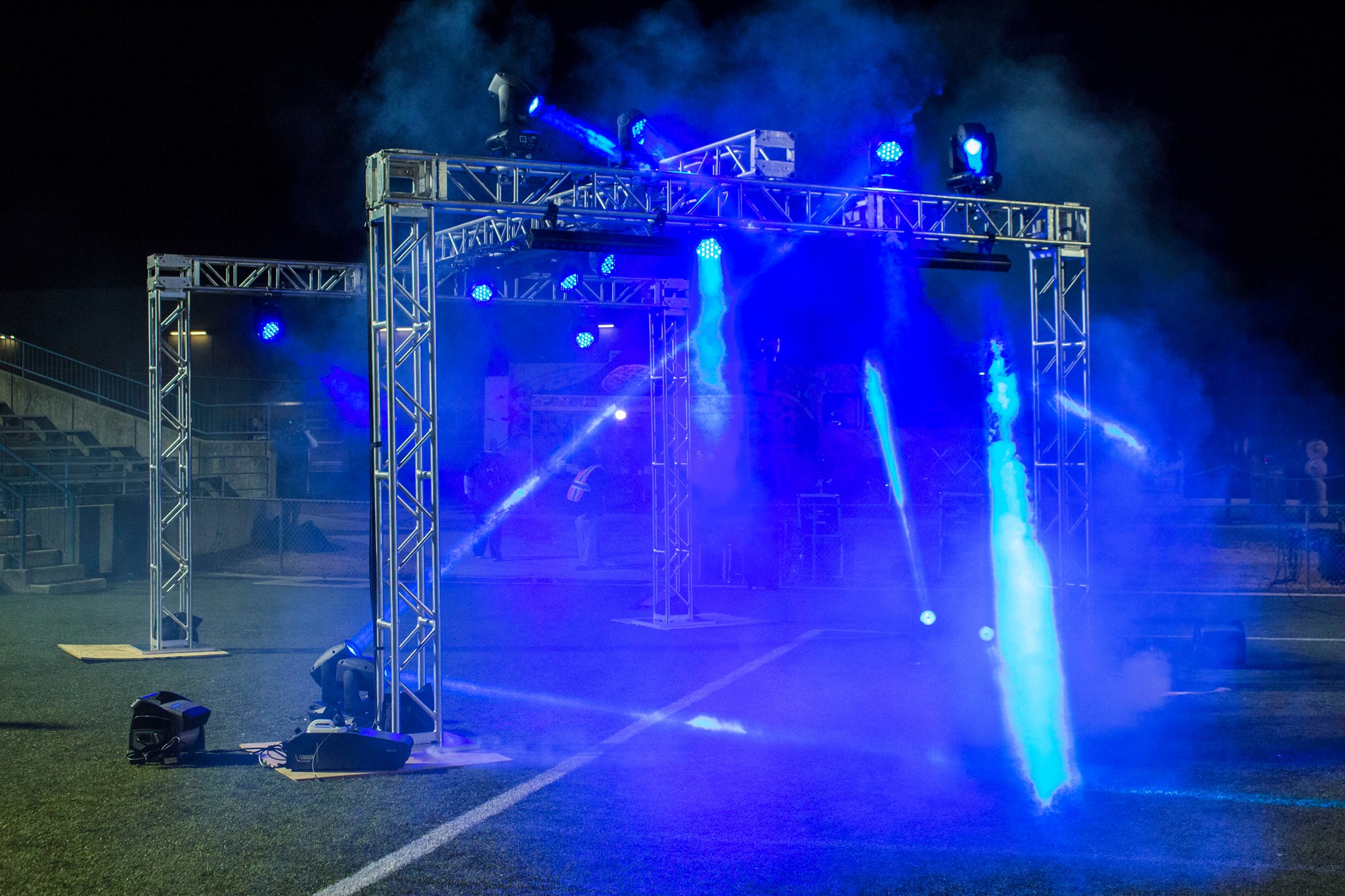 The necessary electrical power for all of this professional stage lighting was not available nearby where it would be needed on the football field. Fortunately, our friends at Temp-Power had just the right size of quiet-run portable generators to provide the needed electricity while being quiet enough to not interrupt the event.
Gear List:
8x Elation Lighting Platinum Beam 5R
8x Elation Lighting ELED QA Strip
8x Chauvet Rogue R2 Wash
2x Martin JEM ZR44 High Mass Fog Machine
Martin M-PC lighting console with M-Touch control surface
8x Applied Electronics 12″ x 12″x 10′ HD Box Truss
4x Applied Electronics 12″ x 12″ 5-way corner block
4x Applied Electronics Truss Baseplate
2x Applied Electronics Truss Grapple
QSC KW153 3-way Active Speaker
6x Yellow Jacket Cable Ramp
2x Honda EU6500IS 6.5kw Quiet-Run Inverter Generator