Picture this. A chic wedding with beautiful and luxurious waves of fancy Wedding Draping fabrics nicely wrapped, drooped, and puddled to the ground.
Fabric for Fairytales. That's what some would say.
In a nutshell, Wedding Draperies are flowy, light, and breezy – a perfect way to add grace and style to any special event, including weddings.
Wedding Drapery Fabrics Can:
Cover things you don't want to see at a wedding venue meant for romanticism.
Highlight inviting spaces within the ceremony or reception.
Needless to say, wedding draping treatments for wedding celebrations and other fancy events are an incredibly helpful tool to structure, as well as personalize, any occasion to precisely the way you desire it.
Nowadays, Wedding Draping is a crucial element to countless wedding coordinators and brides-to-be. Wedding drapery is soft, yet refined, and its uses are many.
3 Reasons Why Numerous brides-to-be love using Wedding Draping:
To hide unattractive aspects of event spaces.
To turn blah entrance ways into something grand.
To add sophistication and style to any kind of location to contribute to the overall ambiance.
By the way, there is no wedding drape too small. Wedding Drapery Sizes can range anywhere from 1' to 30' tall!
Trending Locations for Wedding Drapery Rentals
One thing is for sure: Weddings these days are not about basic spaces. Combine wedding drapery to transform the most beautiful of areas:
Luxurious Wedding Tents
Banquet Halls or Hotel Event Spaces
Barns
Museums
Conservatories
Botanical Gardens
Boats and Yachts
Backyard Areas
Beaches
Churches
The list goes on…
Popular Wedding Drapery Ideas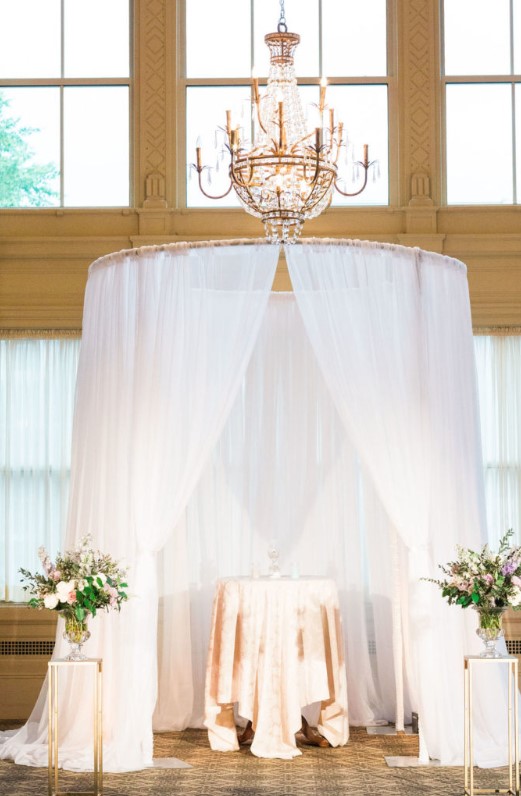 Draping Ideas for Weddings include ceiling canopies, room liners, and backdrops as well as tent and stage draping. You'll want to pick professionals that offer a free design consultation to explore your options.
Use it to develop a one-of-a-kind backdrop for food tables or merely split a room in half to divide the space in two. Wedding draperies can also be used as a backdrop for the musicians performing during the reception.
The design enhancements are limitless.

TOP IDEAS:  When to Use Wedding Drapery 
When Ceremony and Reception must be in the Same Space
Use wedding drapery for an elegant way to direct the guests to the ceremony on one side as if it's in one intimate space.
Bistro Lighting or Up lighting
Attempt to incorporate draping with bistro lighting or up lighting to add flair to your once-in-a-lifetime event. Remember that wedding draping can be hung anywhere.
When Needing to Hide Ugly Ceilings and Beams
Create an intimate space by covering high ceilings, irregularly shaped rooms, or outdoor tents.

When Needing a Backdrop to Highlight or Hide Something 
Create depth and a prettier atmosphere.  Get Trendy!
Use wedding drapery around a unique piece of art to dress up blank wall space.
Mix elements such as drapery and vines to create a textured space behind the band.
Create Photo Backdrops with drapery and frames for Unique Photography backgrounds.
Drape fabric around small windows to make them appear larger and grander than what they are.
Dessert or Food Tables
Spice up your food and treat tables using wedding drapery layers, then overlay with a sequin or sheer drape of a different color.

Head Tables
Draping tulle around your head table is the absolute best way to create a focal point never forgotten. And don't forget, there is a style for every preference.
Wedding Arches
Combining drapery with branches or flowers on a wedding arch is amazing and breathtaking.
Best Wedding Draping Fabric
Honestly, the type of wedding fabric you use to drape at your special event is up to you. They can be used to "drape" tables, walls and/or ceilings. They can be white. They can be Fuchsia. They can be sheer, solid, flat, or shiny. It is totally your preference.
However, there are types of fabrics that are commonly used when using materials of all kinds to drape a wedding.
Poly Premier is kind of like table linens at a fancy restaurant. This fabric is an elegant and subtle way to incorporate the colors white and ivory. 
Sheer Fabrics will reveal objects behind it and is see-through.
Sheer Custom is ultra-wide and excellent when used with arches, arbors, ceilings, backdrops or pipe. A perfect combination when used with lighting.