Lighting at Dover Hall
Are you interested in Dover Hall or are you planning on having an event there? Talk about an exquisite venue! Dover Hall is a picturesque estate with rolling hills and beautiful views. This venue has it all – An amazing bridal suite, professional kitchens, and a ballroom that opens onto large, open terraces. If you're looking for a venue that offers every amenity needed for an event and has the ability to wow your guests, look no further than Dover Hall; this venue will not disappoint.
Is it possible for this awesome venue to get any better? We may be biased, but we'd like to think so. We believe that adding popular lighting services, such as uplighting, bistro lighting, draping, or pin spotting can truly enhance an already amazing venue. Not just at Dover Hall either, but at every venue. Feeling overwhelmed about these terms? Don't worry, we'll walk you through it using examples from events we've done at Dover Hall.
Uplighting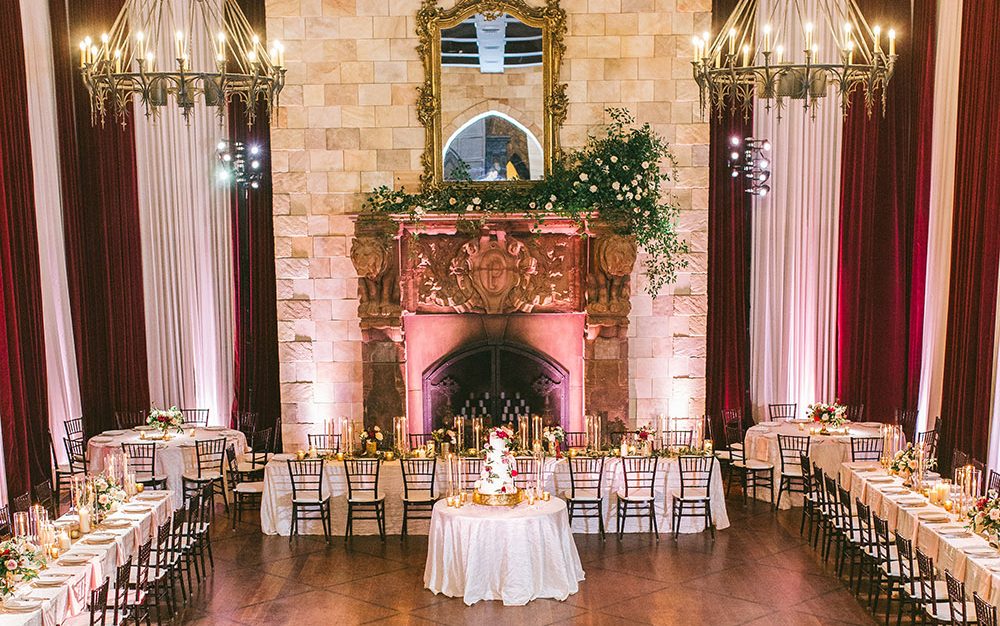 As you may know, uplighting is the technique of pointing a high powered light, typically an LED light fixture, at the wall in order to create a column of light. This can help to create an ambiance in the room that matches the vibe and theme you are hoping to achieve for your event.
Uplighting is a perfect complement to the ballroom at Dover Hall. The large walls, vaulted ceilings, and tall drapes lend themselves perfectly to the column effect of the uplights. Uplighting can help you set a mood or theme and can make your event one to remember.
Uplighting doesn't have to be limited to just the ballroom either, uplights also look great on the exterior of the building, trees, and other points of interest.
---
Draping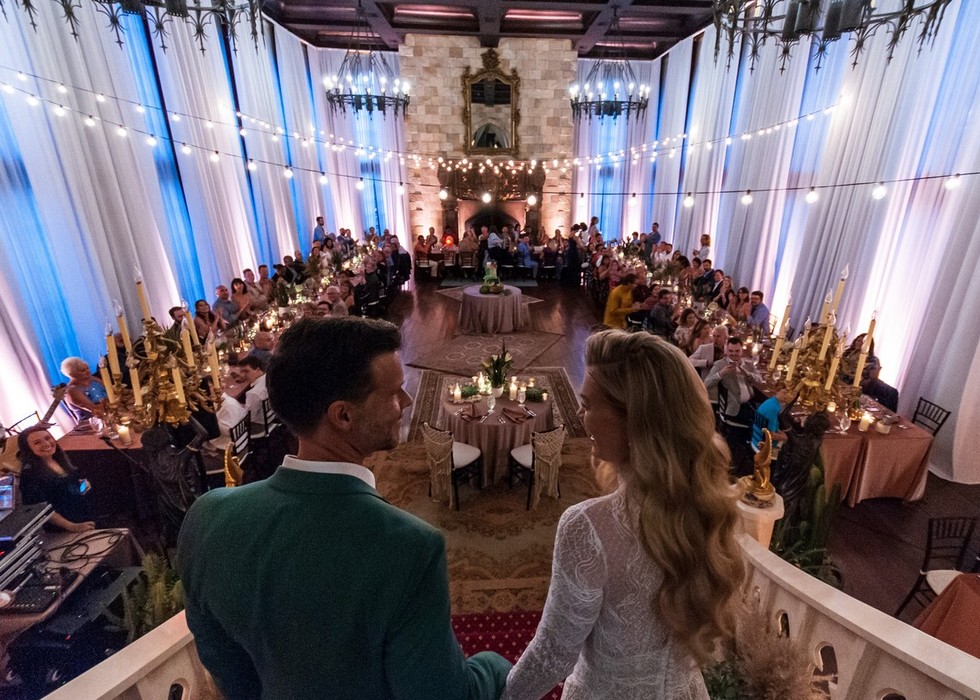 Draping an event is very exciting because it can be whatever you want it to be! You can have a custom design in mind when approaching a draping company; ask their designers to come up with something that fits your style; or a little bit of both. Sometimes drape is used to cover something in a venue that you don't wish for guests to see, separate the ceremony space from the reception space, or create a spectacle. While white drape is the most common, event drape can be any color you'd prefer.
Draping is especially interesting at Dover Hall. While the maroon drape that is in the ballroom is great, it's not for everyone. The Lighting & Sound Company has 22′ tall white poly-premier drape made specifically for the ballroom. To use our draping, the current draping doesn't need to be removed or modified. We bring our own supports and simply cover the existing drape in a way that makes it look like it's been there the whole time. The white drape look can add a whole new dynamic to the beautiful ballroom.
---
Bistro Lighting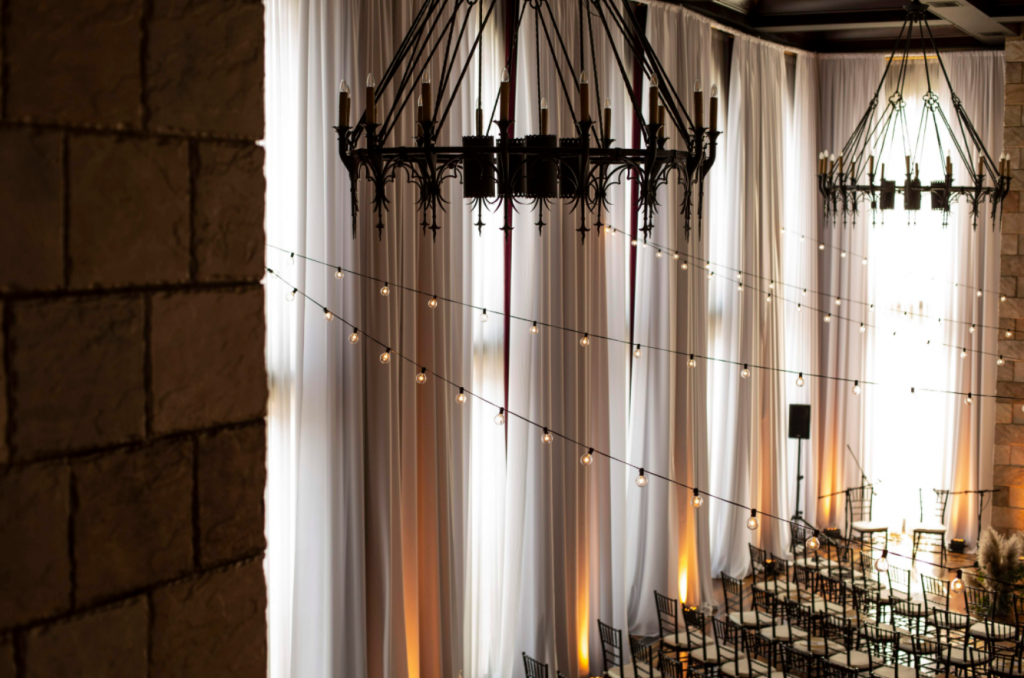 One of the most popular lighting services of the past few years has been bistro lighting. Bistro lighting, which can also go by the name of cafe lighting, festoon lighting, or string lighting not only looks great, it is also very useful for practical and functional purposes. It is often used to add design elements while at the same time allowing guest to see the facilities and all of your other design decisions. Multiple patterns can be used while hanging bistro lighting which allows it to be flexible and diverse while also allowing you to get creative with designs. It can be zig zagged, single crossed, or even festooned out from a single point.
At Dover Hall, bistro lighting can be used to add an extra flair to the large ballroom. It allows guest to enjoy those vaulted ceilings while bringing the feel of the event more inward and allowing for a more intimate environment. Using bistro lighting at Dover Hall fits right in with the stone walls and medieval-style chandeliers.
---
Pinspotting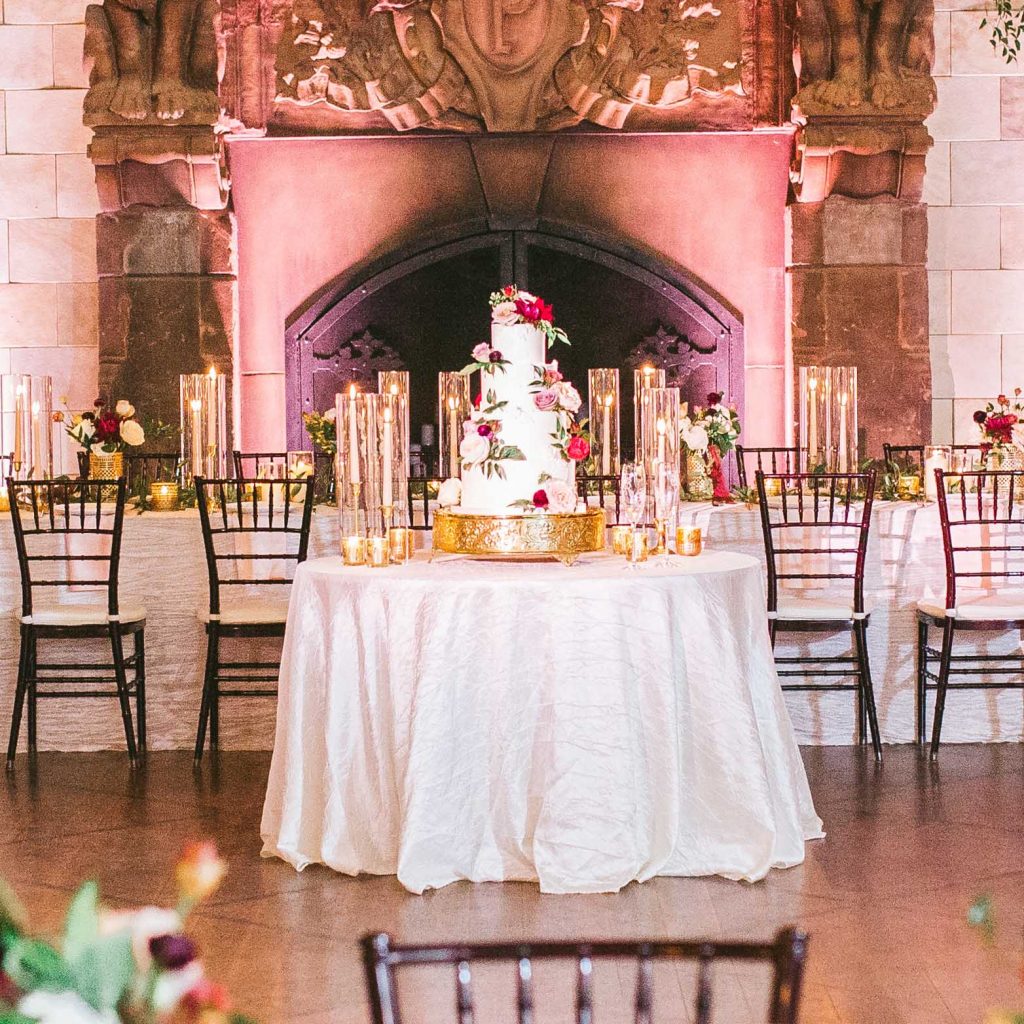 Have you spent weeks finding the perfect centerpieces? You don't want them blending into the background- you want them to pop! That's where pinspotting comes in. Pinspotting allows elements of your design to stand out, no matter how you've decided to set your mood lighting. Just check out this example.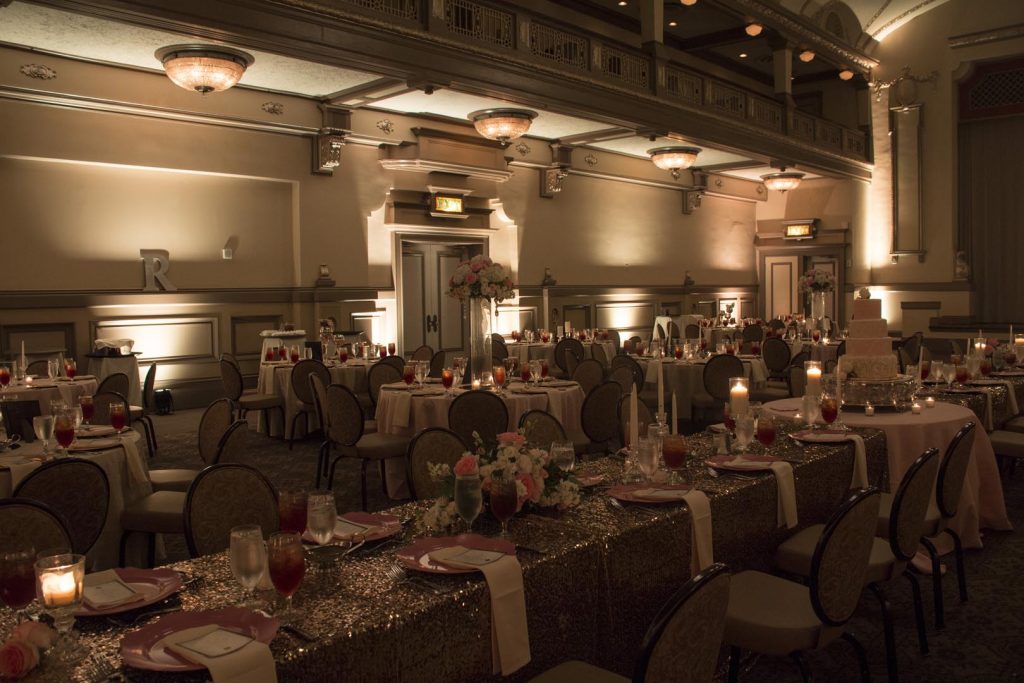 No matter what venue you choose, I'd recommend considering pinspots. Dover Hall is no exception.
---
You can find more information about the services listed in this post by visiting our lighting services page, or see more images of these services by visiting our gallery. You can visit the official website of Dover Hall here.